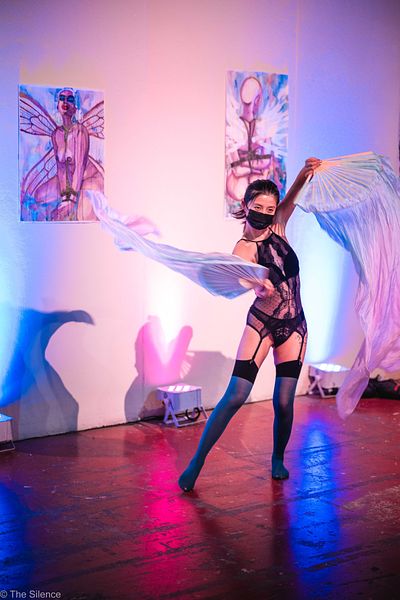 Is "exotic dance" mainstream?
An Asian stripper & burlesque dancer answers
Who are exotic dancers? Most would say strippers or burlesque performers. I'd argue neither is mainstream. When was the last time stripping or burlesque was brought up during a meal with your family? I work both occupations and I evade that conversation with my parents.
It grinds my gears when strippers say they miss 'when stripping was stigmatized'. Redditors bemoan "stripping is dying because online sex work exists'. One doesn't dominate the other because different customers want different services! A generous amount of customers enjoy both virtual/print and in-person erotic entertainment. Outlandish arguments were made decades ago about burlesque. Plenty credit
the fall of burlesque in the 50s
to the rise of modern strip clubs. If burlesque and stripping have proved anything, it's that both can coexist. They
could
exist more harmoniously and that's why I write these articles.
In-person and online sex work can coexist, after all, a myriad of erotic laborers do both. Everyone can have a seat at the table…so I'm sad that I can't name any strippers whose names are hailed as extensively as burlesque legends. The
revival of burlesque
didn't begin until the early 90s thanks to the legends like Dita Von Teese and Catherine D'Lish. There are
Minneapolis strippers
who have been dancing
at the same club
for longer than Von Teese's career. Instagram didn't exist in 1990 so breathtaking striptease lacked the global outreach that exists today thanks to social media.
Amidst the dominant
WASP
culture, women of color disrupted the 20th century burlesque world. How could I leave out
Josephine Baker
and
Coby Yee
? East Asian burlesque dancers were assumed to be Chinese because Americans had, and still have, a monolithic view of East Asia. That narrow worldview is also apparent in strip clubs. There are club patrons who somehow can't comprehend that a Black stripper could be from the Caribbean or how a stripper could be happily married.
America is constantly craving something new but wants all people of color to behave like proto-typical, white suburbanites. It's no wonder why some women, like Baker, were more respected in France than in the United States. During the 1940s, burlesque paid more than enough to sustain an adult. La Bommie, a beautiful Black dancer from Detroit, was paid a grand weekly ($11,000 in today's money) for performing in the US and $500 per week ($5.5K in today's money) for touring Europe [Jet. 1953]. Black American women with vanilla jobs would rarely make a grand
per year
during the 1940s. American burlesque stars, like
Jadin Wong
, ventured into other avenues to expand their brand. Wong was a prominent Asian entertainer during the 20th century who became a talent manager for emerging Asian dancers. I see myself in her.
There needs to be more paid opportunities for live entertainers in the San Francisco Bay Area–that's why I started my own dance production company in October 2023. At the end of the day, what good is having a "mainstream" occupation if one cannot afford to live where they've built a foundation? When I made my New Year's resolutions, I chose "rebirth" to be my word of the year. I severed ties in 2023 to make room for triumphs and welcome inner peace into my life. Because I believe everyone can succeed, I'm gonna ensure that others can welcome more prosperity and joy in their lives as well.
No one should have to spend 50% of their time outside of their home country in order to afford basic necessities. No one should have to pretend they have a different ethnicity in order to prevail at their craft. I don't need to be viral on tiktok in order to be deemed 'credible' on my no collar jobs. I have divulged how Asian women are largely invisible in no collar spaces, much less, in leadership positions. There are women owned strip clubs worldwide but how many of them are owned by Asian former strippers? How many cabarets are there that are owned by Asian former showgirls? I began my podcast about professional cuddling because I don't want others to suffer the way I suffered when I was starting out. I founded my dance company because I don't want gig performers to struggle the way I've struggled in the gig economy.

BIBLIOGRAPHY

*All photos in this article of me were taken by The Silence Photography at the SoMa Cultural Center in San Francisco during Folsom weekend (2023)*